Nam Prik Long Rua (Hot chili sauce and sweet pork) The recipe of HRH queen Sadub Ladawun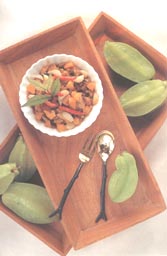 Ingredients
Shrimp paste, spur chilies or hot chilies, garlic, fish sauce, sugar, lime or shredded madan fruits, pickled garlic, salted egg, catfish or serpent head fish, pork belly, crispy eggplant, and cooking oil.

Preparation
Very finely pound the ingredients for chili paste. Prepare sweet pork, set aside. Fry garlic in cooking oil until fragrant, then fry it with the chili paste until it is cooked, set aside.
Cut sweet pork in small pieces. Squash the steamed serpent head fish meat, then fry it in hot cooking oil until crisp, set aside.
Coarsely cut pickled garlic. Split the salted egg into small pieces.
Split the eggplant and cucumber into bite sizes. Put all the prepared parts onto a deep plate, then nicely set it up for serve.

(Mom Luang Nuang Nilruttana. 2537 B.E: 238,256,274)



11 ส.ค 2546
Translator : Aketawan Manowongsa
11 Aug 2003