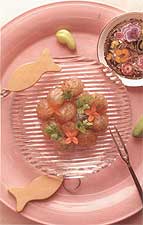 Ingredients
Snake head fish, shallots, peanuts, coriander roots, pepper, garlic,
and small tapioca pellets. Minced pork can be, if preferred, used instead of fish.
Preparation
Roast the fish then keep only the fish meat, get rid of all the bones. Finely crush the fish meat. Finely chop the shallots then set aside. Pound the roasted peanuts. Finely pound the coriander roots, peppers, and garlic. Then fry the pounded ingredients in cooking oil until fragrant, then fry it together with crushed fish meat, chopped shallots, and pounded roasted peanuts until they are well mixed and satisfied with the salty and sweet tastes. Mix it with chopped coriander. Keep the mixture in a bowl. Put the small tapioca pellets into another bowl and knead it with cold water until thoroughly wet, then keep it in a sealed bowl, set aside for an hour. Knead it again with cold water until it becomes soft, slightly sticky, and formable. Then form it into round balls filled in with the prepared fish and ingredients. Steam the balls until well cooked. Evenly sprinkle fried garlic in order to grease the balls so that they will not get stuck to each other.
Side dish salads
Lettuce, coriander, and hot chilies.

( Mom Luang Nuang Nillaruttana; 1994; 46,62)


Translator : Aketawan Manowongsa
21 Oct 2001