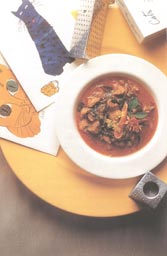 Ingredients
Catfish, dried chilies, shallots, crispy garlic, pepper, coriander seeds, cumin, Luk Chan (fragrant eeds), Dok Chan (fragrant flowers), cloves, kaffir lime rind, wild ginger, shrimp paste, salt, coconut, spur chilies, kaffir lime leaves, sweet basil leaves, fish sauce, sugar, and young green pepper.
Preparation

Clean catfish meat, then cut in to proper pieces. Pound all the ingredients for chili paste, then fry it with the coconut cream until cooked and fragrant. Put the prepared catfish meat into the fried chili paste, then stir fry it until well mixed. Then put it into a pot, put on heat, and add some fish sauce and a pinch of sugar.
Put in the finely sliced wild ginger, taste and adjust the taste until satisfied. Then add spur chilies, the already cut kaffir lime leaves, and sweet basil leaves. Add some young green peppers, if preferred. It is then ready for serve. The delicious curry must be hot and spicy.


(Mom Luang Nuang Nilruttana. 2537 B.E: 238,276,290)



Translator : Aketawan Manowongsa
28 Sep 2003