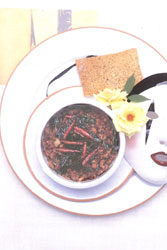 Ingredients
Dried chilies, galangas, lemon grass, kaffir lime skin, shallots, garlic, shrimp paste, snake head fish, dried shrimp, basil leaves, and dried hot chilies.
Preparation
Finely pound the curry paste ingredients, put the already pounded in a bowl then set aside. Grill the snake head fish then take only meat, leave out the bones. Crush the fish meat until fluffy, then fry it until crisp. Fry hot chilies, dried shrimps, and basil leaves until crisp. Then fry the prepared curry paste in cooking oil until fragrant and roughly dried, then mix it with fried fish meat and fried dried shrimps. Taste for the satisfied salty and sweet flavor, then put it onto a plate. Sprinkle fried basil leaves and fried hot chilies on the top. This kind of food can be kept for several days. If prefer sour flavor, just add the ripe tamarind juice while frying the curry paste.
Side dishes
Omelet, salted egg, gourami, salted meat, and dried snake head fish. It can also be eaten with plain rice.

( Mom Luang Nuang Nillaruttana; 1994; 258,276)



Translator : Aketawan Manowongsa
16 April 2002