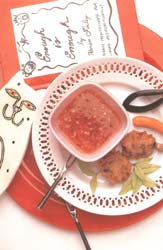 Ingredients
Beef, sweet potatoes, Coriander roots, pepper, garlic, duck eggs, Koki powder, cooking oil, vinegar, sugar, red spur chili, shallot, coarsely chopped spring onion for mixing with the prepared cake.
Preparation
Prepared minced or finely chopped beef, remove all fascias.
Boil whole sweet potatoes, then finely pound them.
Finely pound the coriander roots together with pepper and garlic. Then mix it with prepared minced beef and pounded sweet potatoes. Add a pinch of salt, break 1-2 eggs and mingle it with the mixtures. Mold the cake into small balls then press to slightly flatten them. Then dip them into Koki powder, slightly mixed with water. The fry the dipped cake in hot cooking oil until it become golden. Put the fried cake on plates and it is now ready for serve.
Dipping Sauce
Grind the red spur chilies together with shallot. Then dissolve the ground mixture in vinegar. Add some salt and sugar.
This menu can be a snack, side dish, or main course dish.


( Mom Luang Nuang Nillaruttana; 1994; 10,26)



Translator : Aketawan Manowongsa
21 July 2002