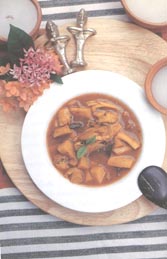 Ingredients
Galangal, lemongrass, shallots, garlic, fresh ginger, kaffir lime rind, kaffir lime with rind removed, fresh hot chilies, dried hot chilies, good quality shrimp paste, ripe tamarind, kaffir lime leaves, crispy fish, roasted serpent head fish, or roasted catfish.
Preparation
Finely pound the ingredients for chili paste. Use only viscera of mackerel. Do not use the serpent head fish's because it is too stench. Put the viscera on heat, then add some tamarind juice. When boiled, filter out the unclean parts. Reheat it.
Dissolve the prepared chili paste in the cooking pot.
Split the kaffir lime and put it in the pot. When boiled, blend the flavor until satisfied salty and slightly sour. If the soup is too thick, add some more tamarind juice.
Add on the dried fish meat, also add the meat of roasted serpent head fish and roasted catfish. When boiled, taste it and put in the kaffir lime leaves. This curry needs to be rather hot and spicy in order to cover the stench. The spicy taste makes the curry very delicious. Served with fresh vegetables
For this royal recipe, do not put any fresh vegetable into the curry because the juice of fresh vegetable will change the flavor of the curry soup. Only the sauce and roasted fish meat that are needed. Eaten by mixing the curry with hot rice and have fresh vegetables as a side dish.


(Mom Luang Nuang Nilruttana. 2537 B.E: 220,235-236)



Translator : Aketawan Manowongsa
22 June 2003