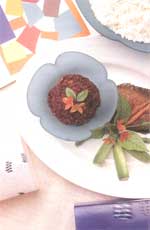 Ingredients
Peeled Nam Leab, fresh garlic, fried garlic, hot chili, minced pork, pounded dried shrimp, hard pork fat, palm sugar, lime, and fish sauce.
Preparation
Pound Nam Leab together with dried shrimps, garlic, and hot chilies then blend it to get deep flavor of sour, salty, and sweet. Fry the garlic then set aside. Slice hard pork fat into strips then fries it until dried. Fry the chili paste in the pan together with minced pork then put in the fried hard pork fat. Blend the flavor until satisfied.
Side dish salads
Salted meat, dried snake heads fish, Gourami, and omelet.
Salads
Winged pea, green pea, cow pea, and cucumber. Chop peas into bite sizes then fried in cooking oil until well done. Prepare the cooked peas onto a plate together with fresh cucumber.


( Mom Luang Nuang Nillaruttana; 1994; 102,116)



Translator : Aketawan Manowongsa
22 Nov 2001