Nang Nak
Phrakhanong
(Mae Nak)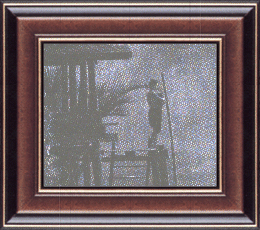 It is believed by Thai people that 'Phi Tai Hong' is the most horrible ghost,
especially the person died by accident. A woman died with a baby in her womb can give the people extremely horrible and exciting feeling. The ghost called 'Nang Nak Phrakhanong' popularly narrated by people until the present is an example.
It was narrated by villagers in Phrakhanong district that, near the canal which was next to Mahabus temple, there was a garden belonging to a rich man called ' Phoo Yai Suk' , the leader of village. At the end of the garden, the way to the temple, there was a small house which was far from people. A couple of husband and wife lived there. The husband named Tid Mak was a man in Klong-Toey district. The wife was called Mae Nak who was a beautiful woman in Phrakhanong district. Even though, they worked in the garden and poor, they loved each other very much.
Tid Mak was sent to be a soldier during Mae Nak was pregnant. Tid Mak could, at first time, come back to visit his wife. Later on, he was sent to join army in the north of Thailand for months. The army finished after Mae Nak 's baby had been born for two months.
When Tid Mak came back from army, he, near the night time , took a boat to Wat Mahabut's port to see Mae Nak suddenly. That night was Wan Phra's night,15 Khum (full moon shine). The moon's light was enough for him to find the way to his house. When he arrived at his house, he called Mae Nak and saw her with a baby. He was very glad and hurriedly went to her. Then he had a little bit shock when touching the unusual-cool and thin wife's body, also the baby. Mae Nak brought him favorite food as if she knew her husband was hungry. While a little bit eating, cool wind coming touched him and made him felt cold and a spoon fell down the ground floor.
Suddenly, Mae Nak could lengthen her hand to keep it. When Tid Mak wondered, she cried and told him she already died. When the baby heard her mother talking, he ran to her mother and jump to a beam, which is under the roof to show his father. Suddenly, Tid Mak knew his wife and baby were ghosts, he hurriedly ran out to his sister's house, her name was Wan, while the lamp's light did not work anymore. After that, Nang Nak followed and called him. Tid Oum protected him by spreading the holy water around the house and asked her to go.
Mae Nak extremely horrified the villagers because she was buried under trees called 'Ta Khian Khoo'. Before Tid Mak arrived at his house, she went to ask food from a young monk. While lengthening her hand to him, her hand was cut by a monk's holy knife. An old monk took him to Kuti, the place for him surrounded by leaves of tree called ' Bai Nad' and slept near him. Nevertheless, he was killed by Mae Nak. It was rumoured that Nang Nak with her baby always gave extremely horrible feeling to the villagers, travelers and monks. Men often got the horrible feelings from her and ran out when they knew a beautiful lady coming to them became Mae Nak. Tid Mak could not go to the other place because he was always followed by Mae Nak.
Finally, Mae Nak's soul and her baby was defeated by Mor Phi (exorcist). He put her and her baby into a pot and threw it into the water. Tid Mak donated her some food through a monk. After that, she disappeared. By the way, Mae Nak Phrakhanong was legendary narrated until the film called 'Mae Nak Phrakhanong' is made for the public.

Translator : Mathurose Satiplan
20 October 1999
Read more articles in

Thai Literature topic

Nang Nak Phrakhanong | Drinking for Long Life(Southern Thai Tale) | Mekla – Ramasura | The History of Frontage Palace | The Northerner | Better than the master | King Tak Sin's Palace,Thonburi | Until the Karma Ends | Brief history of Ayutthaya | Bang Fai Phaya Nark (Naga fireballs) | Tales | 'Feng Shui':The mysterious heritage of beliefs and customs. | The Pirates of Tarutao | The Kingkong Effect |

Home