Loy Krathong is a thai tradition practiced since the ancient time. Loy Krathong festival begins from the middle of October until the middle of November in the time of high-level river which is full of water. The popular time for the festival is in November full moon shine, because of the full moon. The moon's light makes the river look clear and clean in the night. The good atmosphere is suitable for Loy Krathong festival.

Loy Krathong was originally called Phraratchaphithi (Royal ceremony) "Jong Plean Chak Kome, Loy Kome", a Phram Tradition. The purpose was for paying respect to three Gods, Phra Issuan, Phra Narai as well as Phra Phrom.
When Thai People accepted Buddism. Loy Kome Tradition for paying respect to Phra Barommasaririkathat (Buddha's Relics), Phra Chulamanee in the heaven called Daowadeung was begun. Loy Kome for paying respect to Phraphuthabath was made at the bank of Nummathanthi river, India.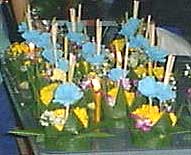 Nang Nophamas, a wife of Phra Ruang who was the King of Sukhothai invented Krathong in the form of lotus and other forms for giving the King. Krathong were released to the river according to the King's order.In the book called " Tamrab Taosrichulalak", the King said " From today until the future, Kome in the form of lotus are invented eternally by Kings of Thailand on the auspicious day in November full moon shine, to pay respect to Phra Phuthabath Numkathanathi.
In the time of Rattanakosin, the big and elegant Krathong was beatifully made according to a book of Rattanakosin belonging to Chaopraya Thipha Ratchawong
When in November, at the date of fourteen-fifteen waxing moon ,and first waning moon, originally the cousin of the King and government officers with strength were requested to invent the big Krathong of Jong Plean tradition.
Krathong were made in the form of barrel, Pae Yuak (raft made of banana trees) which was 8-9 sok wide and 10-11 sok high for the purpose of contest. Krathong in the form of Khaosumeru, 4 continents or shelves were sometimes invented. They were decorated with Krueng Sod (decorations of fresh flowers of leaves) by hundreds of people. The expense of Krathong making from the food for these people until experts was nearly 20 chang or more.
At the present, Loy Krathong tradition is held in most of provinces. It is considered to be the annual important festival, especially, the manifestation of big and small Krathong, Krathong as well as Miss Krathong contest are held in Chiangmai.
Loy kome festival is still popular in the north and northeastern of Thailand. Papers will be made for a big colorful Kome. Kome will be released into the air by smoke. But in the night, fire will be set by torch at the mouth of Kome in order to make the smoke go through Kome. After that, Kome will go into the sky. Kome and moon's light as well as star are beautifully seen in the night.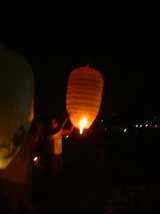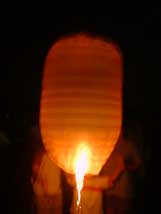 Translator : Mathurose Satiplan
10 October 1999