"The merit ceremonies (Ngan Boon) of Thai northeasterner (can be called as 'E-san people') originated from old customs or traditions which continually taught until now, are called as "Heed Sib-song Klong Sib-si." The words "Heed Sib-song" can be understood as the twelve-month traditions as follows: (Parichat Ruangviset 2539:189-197).
December (Duan Aai or Jeing) is Boon Khow Kram
January (Duan Yi) is Boon Koon Lan
February (Duan Sam) is Boon Khow Ji
March (Duan Si) is Boon Pa Ved (the tenth Bodhisattra)
April (Duan Ha) is Boon Song Khran
May (Duan Hok) is Boon Bung Fai
June (Duan Jed) is Boon Sam Hah
July (Duan Pad) is Boon Khow Phan Sa
August (Duan Kow) is Boon Koaw Pradub Din
September (Duan Sib) is Boon Koaw Sak or Salakkapat
October (Duan Sib Ed) is Boon Oak Phan Sa
November (Duan Sib Song) is Boon Kra Tin.
Those people in Dhan Sai District, Loei have established their merit ceremony of March (Duan Si)--the Boon Pa Ved together with Boon Bung Fai called Ngan Boon Luang. It has been held during the end of March to the beginning of April every year. This so-called a big event and there is a grand sermon (Tej Mahachat) named the Mahavejsandon Jadoh, the story of last great incarnation of the Budda.
There is not only the grand sermon but also the demonstration of the beginning of their fertility. The ceremony includes fantastic parade as a symbol for inviting the last great incarnation of the Budda, Phra Mahavejsandon, to the city. The belief in bringing a season of rainy to their land makes them build "Bung Fai"--the rocket made by many segments of jointed stem bamboo with potassium nitrate to fire fusee. This Boon Luang parade of Dahn Sai people comes the Pee Ta Khon festival which is now a famous Thai parade or caravan widely known all over the world.
Pee Ta Khon is one of the E-san traditional plays. Each player must wear scary mask and make-up to look like ghost. Not for invoking evil spirit but for amusing among the crowd. In former years, E-san people usually played it for favor during the Boon Bung Fai and Boon Pa Ved ceremonies. The origin of Pee Ta Khon parade is based on the belief in old time story of the last great incarnation of the Budda, Mahavejsandon. While his parents, the King and the Queen of those days, had welcomed him and his family back after banishment. The caravan paraded them back to the city was full of savages and ghosts who used to serve and respect him highly, joined for farewell.
Nowadays, Pee Ta Khon Festival begins from Ngan Boon Luang at the Phon Chai Temple, Dahn Sai District, Loei Province. This merit ceremony lasts three days. The programs are as follows:
First day: It is called as "Wan Ruam" or "Wan Home" which means an assembly day. Their ritual stats in the early morning, including inviting the Spirits of God known as Phra U-pakut from the Mun River to stay in their directions around rite area. They believe that will protect from harms and make things fine all along the ceremony. This section also has a small group of Pee Ta Khon parade too.
Later in the morning, they parade to the black magician house called Ban Chow Guan in order to do the following step, Bai Sri Soo Kwan--the ritual of bringing back ones spirit. There will be more of Pee Ta Khon during this ritual. As they finish, everyone involving in the ritual, namely, Chow Guan (the black magician who takes care of Ghost called Pee Hor Luang), Nang Tieam, Kana San, Nang Tang (the black magician's helpers), Groups of Pee Ta Khon, E-san dancing group, and other E-san plays. There are some of traditional plays that related their life styles such as Tung Bung (Savage club play), Kwai Too (Handcart play), Tod Hae (Cast nest play). The big parade moves forwards to Phon Chai Temple and revolves round the church. By the time a gathering of Pee Ta Khon is increasing more and more, they will run around to tease all over the village.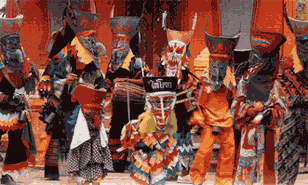 Second day: After groups of Pee Ta Khon gather in the early morning, they will dance and tease for fun with the crowd along their ways. The show continues until the time of parade welcoming Mahavejsandon and his family back in the afternoon (called as "Hae Phra"). The parade begins with San Dahn, carrying cooked rice topped with a boiled egg, used as offering (Bai Sri). Follows the image of Buddha caravan, which is a symbolic of Mahavejsandon. Then there comes 4 monks and caravan of Kana San, Nang Tang, Groups of Pee Ta Khon, and E-san play group. And Bung Fai caravan comes at last. Chow Guan is invited to sit on it as caravan leader. After the whole parade reaches Phon Chai Temple, Bung Fai (bamboo rockets) will be fired for the belief of rain bagging. They are trying to raise the hope for fertility and season of rainy. Chow Guan also gives out a charity during that time.

Third day: The day of virtue and following religious precepts. Buddhists attend a grand sermon and no longer play Pee Ta Khon anymore.

There is two size of Pee Ta Khon appearing in the parade, the bigger called Pee Ta Khon Yai and the smaller called Pee Ta Khon Lek.

Pee Ta Khon Yai is a ghost mold made from woven bamboo with about two times bigger size than normal people (In Thai, the word "Yai" means big). It is decorated with any in-house trifles they can find. In the parade, player must go inside the mold. There is only two Pee Ta Khon Yais in each year-a male and a girl, which can be easily separated by their genders. The players of this kind of mold are so specific because they have to receive an approval from ghosts or gods they believe. And when they do so, they must continue play every year or three-year times at least.

Pee Ta Khon Lek is for everyone who loves to play no matter who they are. Children, adults, women or men can be in the parade and have some fun. Normally, there are a few women in because the play is a bit wild and naughty.

The Mask: Pee Ta Khon Lek is made from the nearer end of coconut leaf sawed with a Thai style kettle. Then drawing its face to look like ghosts in funny way. Player dresses in dazzling colors by patching the small piece of cloth together in own style. The important thing is to cover all over the body.

The special decoration for Pee Ta Khon's player is Mah Ka Lang and wooden sward.

Mah Ka Lang is a Thai music instrument in the old time. It looks like a cowbell. Players will put it on their waists and move their body while dancing. It makes funny and tuneful sounds.

Wooden sward is Pee Ta Khon's weapon. Not for fighting but for teasing with the girls. It makes noisy and funny atmosphere during the parade. Sometimes they annoy the crowd but it is a tradition from the past. A reason why they are running away in this teasing is the genital-like (craving) at the end of wooden sward. The players even paint it in red by purpose to make more obvious. This is base on the belief that it will make Praya Tan (name of a god) satisfy and give the rain back for their fertility.

Boon Laung ceremony with Pee Ta Khon festival of Dahn Sai District, Loei is an important tradition of March among those twelve-month traditions called as Heed Sib-song Duan Si. They may have the same festival in some place around E-san area but the Boon Pa Ved and Pee Ta Khon parade are still well known here at the Phon Chai Temple in Dahn Sai and will be with Loei people forever.

Parichat Ruangviset, Heed Sib-song Klong Sib-si of Loei people, Loei, Bangkok: feature, 2539.

Translator : Pitiradee Usanno
21 September 2000